The vision was a huge loop of transmission lines from Hutchinson to Larned to Kinsley to Turon and back to Hutchinson. It was the most ambitious plan for electrical distribution in Kansas.
The loop was progressing, but more money was needed
Work progressed under the direction of Ralph Jarvis throughout the fall of 1920 and the early months of 1921. Nathan Jones was the tireless promoter of the vision. He was in the news every few days.
But the 65 mile line from Hutchinson through Lyons to Larned required a big investment. Jones sold and promoted, but the capital was slow to come. The loop couldn't be "turned on" until this critical part was finished. And supplies and power poles and wire were in short supply. Electrical transmission was booming across the US, and materials were hard to get.
United Light & Power takes over
It was in this environment that the owner of the Hutchinson Electric plant proposed joining forces. C.L. Brown of Abilene had built a group of companies like those of Nathan Jones. Brown and his United Light and Power Company provided electricity to towns in north central Kansas, including Abilene, Gypsum, Manhattan, and Junction City.
United also owned the large and modern electric plant in Hutchinson that was going to supply Jones' power loop. It made sense that some sort of joint effort would ensure the success of the project.
It was agreed that United Light and Power would merge and take over the Pawnee Power and Water Company. Pawnee shareholders would get United stock. Pawnee creditors would be paid by United.
The Pawnee Power and Water Company would continue to operate as it had, with its office in Larned.
Nathan Jones contract
Nathan Jones would be under contract to work for C.L. Brown for one year.
Nathan Jones' vision would be completed by others. But he was leaving with a high regard from his community and investors and directors. He had evangelized his vision of electricity for small towns and for irrigation, and he had delivered.
Six years after his first transmission line, and four years after he contracted to supply electricity to Garfield, Nathan Jones would sell out to C.L. Brown and United. He was a wealthy man.
Jones was still a director for Pawnee Power.
In January 1922, Nathan Jones moved his family from Larned to Abilene to work for C.L. Brown.
What did the merger mean for Ralph Jarvis?
Ralph would transfer to and work for C.L. Brown's Pioneer Engineering and Construction Company. He would continue to oversee the completion of the line from Hutchinson to Larned.
During the fall of 1921, Ralph was supervising the Hutchinson-to- Larned line. He was in Hutchinson most weeks.
More responsibility for Ralph Jarvis
Ralph Jarvis was superintendent of construction for Pioneer Engineering and Construction Company. Nathan Jones was general manager. Jones' responsibility was finding and evaluating new acquisitions, then calling on Ralph to build what was needed for each.
For example, Jones worked on a hydroelectric project near Georgetown, Colorado, then sent Ralph to oversee the construction.
C.L. Brown's legacy
C.L. Brown started years earlier than Nathan Jones. Certainly Jones learned many of his later business practices and philosophies from Brown.
In 1898, he started Abilene Electric Light Works with his father. Jacob Brown's grist mill was converted to be a source of Abilene's electric power. This company grew and grew, eventually becoming the United Power and Light Company in 1924.

Due to the success of his electric company, Brown decided to build a local telephone company just one year after Abilene Electric Light Works was formed. Brown later chartered the Brown Telephone Company in 1902.

C.L. Brown and His Effect on Abilene – Dickinson County Historical Society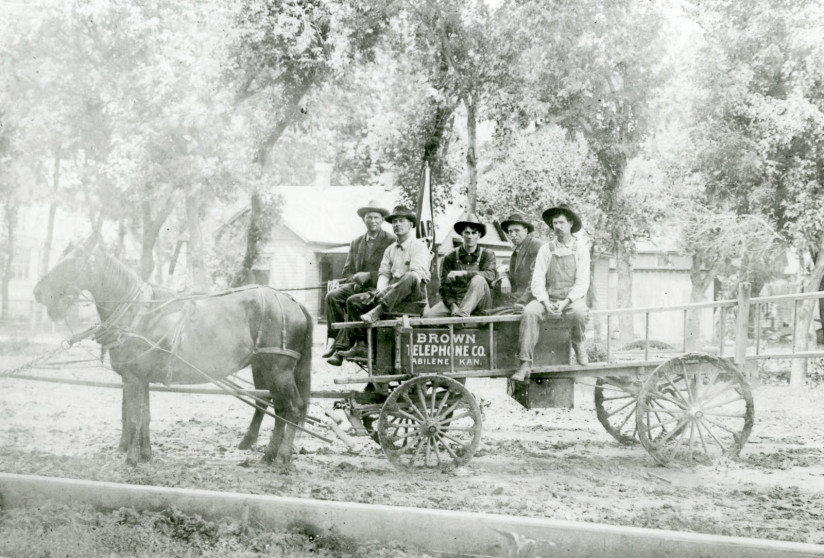 Brown built himself a large empire of companies throughout the early 1900s. There were a total of 85 companies within the Brown empire including: Brown Telephone Co., United Power and Light Co., Clear Creek Power and Development Co., Sunflower Shoe Stores Co., United Aero Co., United Life Building Inc., United Insurance Co., Sunflower Hotel Co., United Oil and Refining Co., United Pipeline Co., United Grocery Store Co. (Piggly-Wiggly Stores), and Beach Oil Co.

C.L. Brown and His Effect on Abilene – Dickinson County Historical Society
United Power and Light was one of the companies that became Kansas Power and Light, later Westar, and today Evergy. Brown Telephone became United Telephone and later Sprint.
C.L. Brown was also a great philanthropist and donated many public works and funds to Abilene.
He promoted thrift and required all employees to save 10% of their pay.
Here's a short video about C.L. Brown.
I think the experience of working for C.L. Brown was beneficial to both Nathan Jones and Ralph Jarvis.
---
Nibbles Extra Credit – The Roaring Twenties
Infrastructure
Roads
The 1920s were the Golden Age of road building. More specifically, the 20s were the age of road paving.
At the beginning of the decade, the US already had many miles of roads. But very few miles were hard-surfaced and suitable for automobile and truck traffic. Outside cities, roads were dirt or gravel.
Only a few hundred miles of roads in the entire country were suitable for motor vehicles.
Automobiles for everyone
The widespread use of automobiles spawned the paving of roads. By 1920, the price of a Model T had dropped from $890 to $250. Everyone could afford one.
Transcontinental Motor Convoy
In summer 1919, the US military ordered a cross-county convoy to evaluate the condition of roads for moving troops and equipment across the US. Led by a young Lt. Col. Dwight D. Eisenhower, the convoy consisted of 81 Army vehicles and 280 troops.
By August, the convoy was heading west across Nebraska. On August 5, west of North Platte, the log noted that many of the trucks had to be pulled through a 200-yard stretch of quicksand, resulting in a 7 hour delay.
On August 8, it took 11 hours to travel from Kimball, Nebraska to Cheyenne, Wyoming, a trip that takes an hour today.
The convoy covered 3,251 miles in 62 days. The convoy was the impetus for the Federal Highway Act of 1921 and was a motivator years later for Eisenhower as president to call for the Interstate Highway System.
A rush to pave
In 1921, the Federal Highway Act earmarked millions of dollars to help states pay for road construction. In return, each state would designate 7% of its roads to be linked with those of other states, a national highway system.
At the state level, gas taxes were introduced. These provided a huge revenue stream for road construction.
All this paving caused a shortage of contractors, equipment, concrete, and bricks.
In the 1920s, the numbering system for U.S. highways began.
Support services
The road network's expanding traffic demanded support service, like gas stations, garages, campgrounds, motels, and restaurants. The number of gas stations in the U.S. exploded between 1921 and 1929, from 12,000 to 143,000.
Traffic signs and lights
By the 1920s, accidents were frequent and many people were killed or injured every year on the roads and highways. In 1924, there were 23,600 deaths due to auto accidents, 700,000 injuries, and more than $1 billion in property damage.
The first permanent installation of a red and green traffic control light—again based on railroad practices—occurred in Cleveland in 1914; in 1917 traffic lights in Detroit added a yellow caution light. The first red stop sign—or "boulevard stop"—was used in Detroit in 1914

The Automobile Shapes the City
Electricity
As the automobile drove the boom in road infrastructure, new consumer appliances and lighting powered a boom in electrification.
The number of homes with electricity doubled during the Roaring Twenties. People wanted electric lights. People wanted refrigerators, vacuums, and washing machines. People wanted radios.
Everybody has electricity
No, not yet.
While many in cities had access to the electric grid in 1920, small towns and farms in rural America were still dark. In the 1920 census, half the population still lived on farms or in towns of less than 2,500. Most didn't have electricity.
During the 15 year period between 1912 and 1927, while the population of the United States was increasing 24%, the amount of electricity used increased 626%; the number of customers increased 465%; and the number of people living in electrically wired homes increased 520%.

The Parade – November 1930 – Public Utility Investment Company
We are witnessing the crazy-fast spread of electrification through the stories of Nathan Jones and Ralph Jarvis. Similar stories were playing out all over the country during the 20s.
Municipal vs. privately-owned utilities
Recall that Larned, Kansas had voted to build and operate its own electric plant. That was a municipal-owned utility. When Nathan Jones organized Western Sumner Light and Power, that was a privately-owned utility. The shareholders own the utility.
It's interesting to see that private utility companies generated about 96% of all electricity in the US in 1920. In 1930, the percentages remained the same. While municipal-owned utility power generation increased in absolute numbers, the amount is small compared to the amount generated by private utility companies.
Electricity also provided a cheap, efficient source of power for factories. Industry began switching from coal to electricity.
Electricity helped make mass production possible. It's said the electricity helped decrease the production time of a Model T from a half-day in 1920 to 93 minutes by mid-decade.
Telephone lines
Another big infrastructure boom was building telephone lines between towns.
Telephones were common in households in 1920. Most telephone companies were local, operating in one town. The 1920s saw the expansion of "long distance" calling between towns and cities.
In 1915. AT&T completed the first transcontinental telephone line. The transcontinental path had 130,000 telephone poles and 2,500 tons of copper wire.
Alexander Graham Bell made the first transcontinental call from New York City, speaking to Thomas Watson in San Francisco. Watson had worked for Bell for decades and was famous as a party on the very first telephone call. The call from New York to San Francisco involved five intermediary telephone operators and took 23 minutes to connect.
Initially, AT&T wouldn't let local telephone exchanges connect to their long distance lines. In 1923, Congress stepped in and allowed the small exchanges to connect to AT&T's lines. That kicked off a boom in line construction to connect every local exchange with a long distance line.
By the mid-1920s long distance lines connected every part of the United States.
Indoor plumbing
Toilets weren't new. Water supply wasn't new. But they couldn't hit mainstream America without the underlying infrastructure.
The 1920, water and sewer system installations expanded rapidly. Cities and large towns embarked on construction of massive piping systems.
With water and sewer infrastructure, both new and existing homes could install kitchen sinks and bathrooms. By the mid-1920s, most new houses were built with a bathroom
---
Timeline – 1922
---
Sources
Newspaper articles – Newspapers.com
Quotation – C.L. Brown and His Effect on Abilene – Dickinson County Historical Society – December 21, 2020 – https://abilenekansas.org/blog/2020/12/21/cl-brown-and-his-affect-on-abilene-kansas
Video – C.L. Brown and Kansas Independent Telephony – https://www.humanitieskansas.org/get-involved/kansas-stories/people/c-l-brown-and-kansas-independent-telephony
Image – Kansas road 1920s – Kansas Memory – Kansas State Historical Society
Image – Jim Webb and Model T – Jarvis Family Documents – Chleo Webb Jarvis collection
Image – Eisenhower 1919 convoy trip – Wyoming History – https://www.wyohistory.org/encyclopedia/eisenhowers-1919-road-trip-and-interstate-highway-system
Image – Highway numbering – Contributions and Crossroads – Federal Highway Administration – https://www.fhwa.dot.gov/candc/timeline.cfm#1920
Image – Short Line Gas Station – 198th and Metcalf, Stillwell, Kansas – 1925 – Hitting the Road in the 1920s – https://jocohistory.wordpress.com/2018/12/31/hitting-the-road-in-the-1920s/
Image – Road construction – 158th and Metcalf, Stillwell, Kansas – 1926 – Hitting the Road in the 1920s – https://jocohistory.wordpress.com/2018/12/31/hitting-the-road-in-the-1920s/
Quotation – Traffic signs and lights – The Automobile Shapes the City – V. Melosi – http://www.autolife.umd.umich.edu/Environment/E_Overview/E_Overview6.htm
Image – Pedestal traffic light – Stop and Go – A Brief History of the Traffic Light – The Old Motor – https://theoldmotor.com/?p=78698
Quotation – Electricity usage 1912-1927 – The Parade – November, 1930 – Public Utility Investment Company – Jarvis Family Documents – Chleo Webb Jarvis collection
Table – Electricity Use in Dwellings – 1920-1930 – Historical statistics of the United States, Colonial Times to 1957 – Federal Power Commission – https://www2.census.gov/library/publications/1960/compendia/hist_stats_colonial-1957/hist_stats_colonial-1957-chS.pdf
Table – Electricity Generation by Class of Ownership – Historical statistics of the United States, Colonial Times to 1957 – Federal Power Commission – https://www2.census.gov/library/publications/1960/compendia/hist_stats_colonial-1957/hist_stats_colonial-1957-chS.pdf
Image – Cassville, Wisconsin – electric and telephone lines, autos and roads – 1921 – What America Looked Like 100 Years Ago – CBS News – https://www.cbsnews.com/pictures/america-1921-roaring-20s-100-years-ago/
Image – Clay sewer pipe – late 1920s – https://sewerhistory.org/grfx/construct/general/images/1920_con207.jpg
Image – Crane bathroom ad – 1924 – Antique Home Style – https://www.antiquehomestyle.com/inside/bathrooms/1920s/gallery/page03.htm